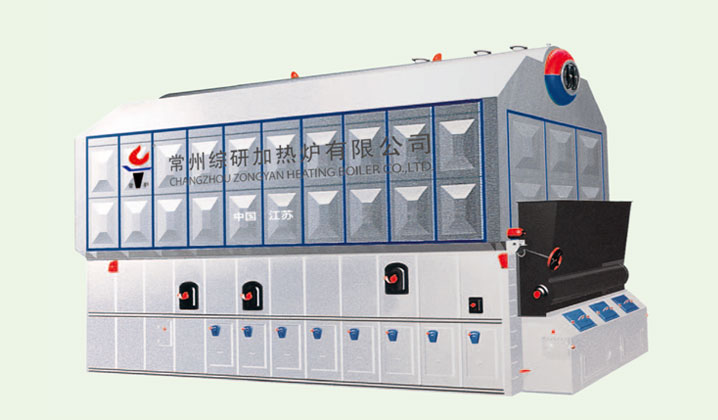 Description of Product
Model SZL Series packaged water-tube hot water boiler is the double-drum and longitudinal layout chain grate boiler. The body of boiler is composed of two drums longitudinally laid respectively upward and downward along the center of boiler. The front part and water-cooling wall tube in both sides together with hearth separating wall constitute radiation heat surface in hearth. The hearth separating wall and the separating wall in convection area together with watercooling wall tube constitute reburning chamber. The tube bundles between rear part of upper drum and the lower drum constitute the convection heat surface.
The coal economizer (or air pre-heater) is mounted at the rear of boiler. After a part of calorific capacity from the high-temperature flue-gas generated after burning is absorbed in the hearth, the flue-gas enters into reburning chamber to transfer the heat on the convection heat surface and passes through coal economizer (or air pre-heater) and finally it is transferred by the draught fan to chimney for atmospheric dilution through the dust shaker.
The product has compact structure and covers a small area with single storey layout in boiler room. The investment in capital construction is saved.
It is high for installation level, short in installation period and less in installation charges.
The arrangement of heat surface is sufficient and rational. The rise-temperature and rise-pressure is fast in boiler with strong power and high thermal efficiency.
Air is introduced in grates with air distribution compartment. The blowing rate in air compartments can be independently adjusted. The stepless speed regulation is used in the grates. The wide kinds of coal can be suitable for the boiler with full combustion.
The electrical control cabinet is equipped with complete automatic controls and monitoring instruments with high automation, safety and reliability and convenient operation.
Scope of product
Heating Capacity: 1.4 – 21MW; Pressure: 0.7 – 1.25MPa; Extracted water temperature: 95℃ - 130℃
Technical Data Table
Project / Model

SZL4.2-1.0

/95/70-All

SZL4.2-1.0

/115/70-All

SZL5.6-1.0

/95/70-All

SZL5.6-1.0

/115/70-All

SZL7-1.0

/95/70-All

SZL7-1.0

/115/70-All

SZL10.5-1.0

/95/70-All

SZL10.5-1.0

/115/70-All

SZL14-1.0

/95/70-All

SZL14-1.0

/115/70-All

SZL17.5-1.0

/95/70-All

SZL17.5-1.0

/115/70-All

Maximum size of




shipping part (m)

6.1x3.1x3.5
6.8x3.4x3.5
7.6x3.4x3.5
9.6x3.4x3.5
11x3.4x3.5
8.2x3.0x3.6

Maximum weight of




shipping part (t)

25
29
31
42
50
22/28

Overall size of

installation (m)

9.5x5.5x6.2
9.5x5.5x6.2
9.8x5.7x6.2
10.9x4.7x6.7
12x5.4x6.8
13.7x5.9x8.4
Draught tan
GY6-1 30kw
GY10-1 45kw
GY10-15 55kw
Y5-47 12D 75kw
Y5-47 12.4D 90kw
GY20-15 110kw
Blower fan
T4-72 5A 11kw
GG10-1 15kw
GG10-1 15kw
G4-73 9D 30kw
G4-73 9D 30kw
GG20-15 55kw
Speed governor
GL-10P 0.75kw
GL-16P 1.1kw
GL-16P 1.1kw
GL-20P/II 1.5kw
GL-20P/II 1.5kw
GL-30P 2.2kw
Rated heating power (MW)
4.2
5.6
7
10.5
14

17.5

Rated water-delivery

pressure (MPa)

1.0
1.0
1.0
1.0/1.25
1.0/1.25
1.0/1.25

Rated outlet

temperature (℃ )

95/115
95/115
95/115
115/130
115/130
115/130

Rated inlet

temperature (℃ )

70
70
70
70
70
70
Circulation amount (m3/h)
144/80
192/107
241/134
201/151
267/201
333/251
Heating area

Boiler (m2)

156
197.4
233.6
335.5
404.6
521.1

Coal

economizer

(m2)

87.2
104.6
139.5
130.8
295
118/ 199
Effective area of gate (m2)
7.7
10.1
11.8
17.8
21.8
24.3
Boiler volume (m3)
7.3
9.6
12.4
15.3
21
26
Design efficiency (%)
> 81
> 81
> 81
> 81
> 81
> 82
Applicable fuel
Soft coal,Class Ⅱ and Ⅲ