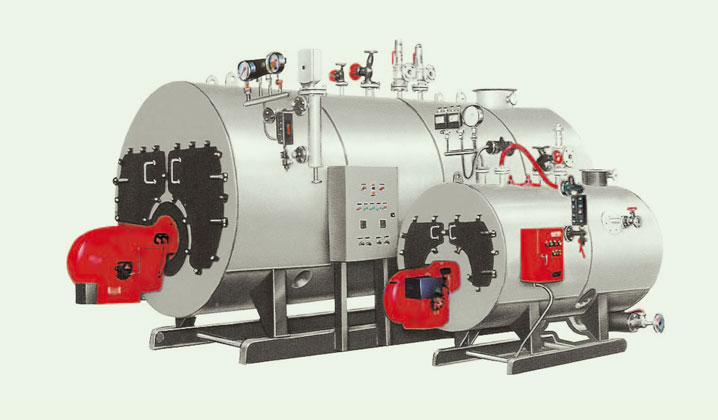 Description of Product
WNS Series full-automatic oil (gas) – fired steam/hot water boiler made by Changzhou Zongyan is a horizontal triple-pass fire-tube boiler. It mainly is composed of boiler shell, boiler furnace, flue-gas reversing chamber and fire tube. The convection heat surface – coal economizer is rationally laid down in the rear. The funnel temperature conforms to the effluent discharge standard specified in national energy-saving requirement.
The boiler is suitable for use of light oil, heavy oil, natural gas, liquefied gas, urban gas, etc.
The product is designed with wetback structure and the structure of corrugated boiler furnace, thus reducing thermal efficiency of boiler and increasingsafety and service life of boiler.
With the unsymmetrical arrangement of heat surface, the stress and expansion of boiler is rational.
The rational heat surface ensures the good water circulation and heat exchange to make thermal efficiency reach the optimum status and increase the thermal efficiency of boiler.
With the burning chamber arranged in low position, the steam boiler has a wide safety range of water level and wide steam space either. The quality of steam is ensured.
With full butt weld wetback structure, it is avoided for back tube sheet to be damaged by high-temperature flue-gas to ensure the safety operation of boiler.
The advanced burner with world famous brand and fully-automatic control system is selected for use, which makes burning stable and operation convenient and running reliable.
Scope of product
Steam Boiler: Evaporation discharge: 1 – 20 t/h; Pressure: 0.7 – 1.6MPa; Hot Water Boiler: Heating capacity: 0.7 – 14MW; Pressure: 0.7 – 1.25MPa.
Technical Data Table
Project / Model

Rated ezaporation capacity

(t/h)

2
4
6
8
10
15
20

Rated working pressure

(MPa)

1.0
1.25
1.25
1.25
1.25
1.25
1.25

Rated steam temperature

(℃ )

184
193
193
193
193
193
193

Waer-supply temperature

(℃ )

20
20
104
104
104
104
104

Boiler volume

(m3)

7.2
8.2
14.5
16.2
19.8
26.1
30.5

Design efficiency

(%)

> 90
> 90
> 90
> 90
> 90
> 90
> 90

Applicable fuel

Light oil,heavy oil,natural gas,liquified gas and urban coal gas6022

External size

A(mm)

Length

5084
6022
7151
7600
8360
9050
9650

B(mm)

Width

2450
2700
2800
3000
3000
4500
5000

H(mm)

Height

2380
2684
2882
3200
3200
5200
5600

Boiler weight (t)

8
12.6
17.2
18.6
23.5
34.2
40.1

Diameter of main

steam opening (mm)

65
100
125
150
150
200
200

Diameter of safety valve (mm)

40x2
50X2
65X2
65X2
80X2
100X2
100X2

Chimney diameter (mm)

350
450
600
700
750
900
1000
Oil(Gas)-fired Steam/Hot Water Boiler
Project / Model

Rated heating power

1.4
2.8
4.2
5.6
7
10.5
14

Rated water-

delivery pressure (MPa)

0.7
0.7
1.0
1.0
1.0
1.25
1.25

Rated outlet temperature (℃ )

95
95
95
95
95
115
115

Rated inlet temperature (℃ )

70
70
70
70
70
70
70

Circulation amount (m3/h)

48
96
144
193
241
201
267

Boiler volume (m3)

6.7
7.1
9.8
11.5
13.8
16.1
20.4

Design efficiency (%)

> 90
> 90
> 90
> 90
> 90
> 90
> 90

Applicable fuel

Light oil,heavy oil,natural gas,liquified gas and urban coal gas

External size

A(mm)

Length

5038
6022
6860
7600
8160
8850
9450

B(mm)

Width

2280
2650
2800
3000
3000
4500
4700

H(mm)

Height

2240
2684
2882
3110
3200
5100
5300

Boiler weight (t)

7.2
12.3
15.1
17.2
20.7
31.3
39.8

Inlet/outlet diameter (mm)

100
150
200
200
200
200
200

Diameter of safety valve (mm)

50
50X2
65X2
65X2
80X2
100X2
100X2

Chimney diameter (mm)

350
450
600
700
750
900
1000